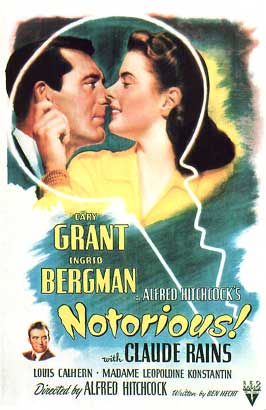 NOTORIOUS
(1946) Starring: Cary Grant, Ingrid Bergman and Claude Rains. Directed by Alfred Hitchcock. Screenplay by Ben Hecht. Produced by Alfred Hitchcock. Run Time 101 minutes, Black and White. U.S. Drama, Espionage, Suspense
Any serious top ten list should have at least one Alfred Hitchcock film on it. He made so many films over his half century career that to pick only one is hard. However, while STRANGERS ON A TRAIN (1951) maybe a close second, NOTORIOUS makes my list as my favorite Hitchcock film. Hitchcock developed a very distinctive directorial style, which may, today, seem dated. The pace is much slower than films are now. Things are allowed to develop, even if it seems too long. VERTIGO (1958) is a great movie, but at times the viewer might feel like they are on a sightseeing bus in San Francisco, as Scottie (James Stewart) tails Madeline Elster (Kim Novak) through the streets.
It is also easy to think of great scenes in many of Hitchcock's movies. In the above mentioned VERTIGO the way the camera zooms in and pulls out at the same time to show the effects of Scottie's disorder. The fight scene on the statue of liberty in SABOTUER (1942), the hide and seek on top of Mount Rushmore in NORTH BY NORTHWEST(1959), the discovery of Norman's dead mother in PSYCHO (1960), and the list goes on. But NOTORIOUS is more than a great scene.
When Cary Grant's name is mentioned, it is hard to think of a bad film that he was in. He is the ultimate movie star from the golden era of Hollywood. He seemingly could do it all, from screwball comedies BRINGING UP BABY (1938), to action GUNGA DIN (1939), to comedy HIS GIRL FRIDAY (1940), to film noir SUSPICION (1941) to war films DESTINATION TOKYO (1943) and the list goes on and on: ARSENIC AND OLD LACE (1944), THE BACHELOR AND THE BOBBY SOXER (1947), THE BISHOP'S WIFE (1947), THE AWFUL TRUTH (1937), TO CATCH A THIEF (1955) and those are just a handful of the 74 films he was in from 1932 to 1966. In this film, Grant plays T.R. Devlin, a U.S. government agent who is the contact and love interest of Alicia Huberman, played by Ingrid Bergman.
Arguably the most beautiful actress ever to come from Sweden, Bergman was on a roll role wise. Four years earlier, she had played Ilsa Lund opposite Humphrey Bogart in CASABLANCA (1942). After that she had played Maria in FOR WHOM THE BELL TOLLS (1943), which earned her an Academy Award nomination as Best Actress. The next year, she played Paula Alquist Anton in GASLIGHT (1944), for which she did win an Oscar. In 1945, she played Sister Mary Benedict in THE BELLS OF ST. MARYS, a role for which she received yet another Academy nomination as Best Actress. No actress was hotter or prettier, than Ingrid when she signed on to play the daughter of a convicted Nazi spy in NOTORIOUS.
Rounding out the cast is Claude Rains. In this film he plays Alexander Sebastian, a rich, urbane, momma's boy who also happened to be a Nazi. He plays the leader of the Brazil based Nazis who are still working to bring back the Third Reich, even though the war is over. There are of course, plenty of great supporting cast members: Leopoldine Konstantin
as Madame Anna Sebastian, Alex's mother, Louis Calhern as Captain Paul Prescott, an officer in the U.S. Secret Service and Ivan Triesault, as Eric Mathis, perhaps the wickedest of the Nazis.
The plot of NOTORIOUS revolves around the relationship between Devlin and Huberman. He is the one that recruits her to help the U.S. government and it is the two of them that fall in love while they await word on her assignment. But Devlin becomes all work when Huberman is sent to seduce Sebastian, one of her father's friends. Sebastian has been carrying a torch for Huberman all this time, so he quickly brings her into his world. At a dinner, Alicia notices that one of the other dinner guests becomes hysterical when a certain bottle of wine is brought out and the man has to be ushered away by Mathis. This becomes a key plot point later, especially when that dinner guest is never heard from again.
When Sebastian proposes, Devlin does not interfere, letting Huberman decide what she wants to do. Thinking it is all part of the job, she accepts.
Returning from her honeymoon, Huberman tries to find anything she can about what is going on at the house. The one thing she notices is missing is the key to the wine cellar, a key only Sebastian has. That news along with the wine bottle incident she has told him, leads Devlin to request that she through a grand party and invite him. Before the party, she slips the wine cellar key off of Sebastian's key chain and together with Devlin, they go down to the wine cellar to investigate. They are working against time, as upstairs, they are running out of champagne faster than they expected. Sooner or later, Sebastian will have to go the wine cellar for more bubbly.
Accidentally, Devlin breaks one of the bottles, but rather than wine, the bottle is filled with black sand, a sample of which Devlin takes to get analyzed. They quickly clean up and leave the cellar just ahead of Sebastian coming down. He can't find his key, but he does see Devlin and Huberman kissing as cover for why they were on their own. Still Sebastian is suspicious and it grows worse when he finds the key has been returned to his chain the next morning.
Knowing he has a problem, Sebastian turns to his mother for advice. They both know that the other Nazis would not take kindly to finding out that Sebastian has brought a spy into their midst. The best solution they come up with is to poison Huberman and have her die slowly. However, when she misses her rendezvous with Devlin, he becomes worried. Breaking into Sebastian's home, Devlin finds her. After confessing his love for her, he carries her out, only to be discovered by Sebastian and his Nazi cronies.
In the film's great final scene, Sebastian, knowing the fate that awaits him, begs Devlin to take him, too. But Devlin leaves him behind to face the consequences.
NOTORIOUS is one of those films that have it all: a great director, a great cast and a great story. There is real suspense and there is romance between two of the best looking people who ever walked the planet. This is a movie that I enjoy every time I see it and I would suggest if you haven't seen it, you make the effort.